WildAct launched fundraising campaign for ranger Ngo Duc Lien on occasion of "Vietnam Ranger Day"
On May 22, 2023, Vietnam Wildlife Action Center (WildAct) launched a fundraising campaign for Mr. Ngo Duc Lien - Legal Officer of Chu Yang Sin National Park (CYSNP) Ranger District, who was shot by poachers during a patrol. The campaign was launched from May 22, 2023 to June 12, 2023 (3 weeks) in order to call for the support of organisations and individuals across the country for his treatment cost as well as supporting additional protective equipment that help forest rangers overcome difficulties and reduce dangers in forest protection in the future.
On September 10, 2018, Chu Yang Sin NP issued Decision No. 48/QD-VQG on patrolling, sweeping, establishing the Rapid Patrolling Response Team with a total of 22 members, led by Mr. Ngo Duc Lien. While on duty, Lien was fatally shot by 3 hunters with homemade shotguns. He was shot with a total of 17 lead bullets, of which 5 ones were in a dangerous position behind his back, 12 ones were in other places on the body such as the right thigh, two arms, causing a injury disability scale of 25%.
"Before the patrol duty, I anticipated danger and was ready to face it. My colleagues joined the previous rapid patrolling response , so I volunteer on duty this time. I consider the shooting an occupational accident that I may meet with. Unexpectedly, I was fatally shot 17 times by hunters. At that time, everyone was shocked and confused. My colleagues had to take off their shirts as a stretcher and take me out of the forest. During emergency procedure in the hospital, I also received support from my colleagues at Chu Yang Sin NP and health insurance agency to cover a part of treatment cost. However, I paid most of the surgery cost myself, more than 40 million Vietnamese Dong (VND)." Mr. Lien shared.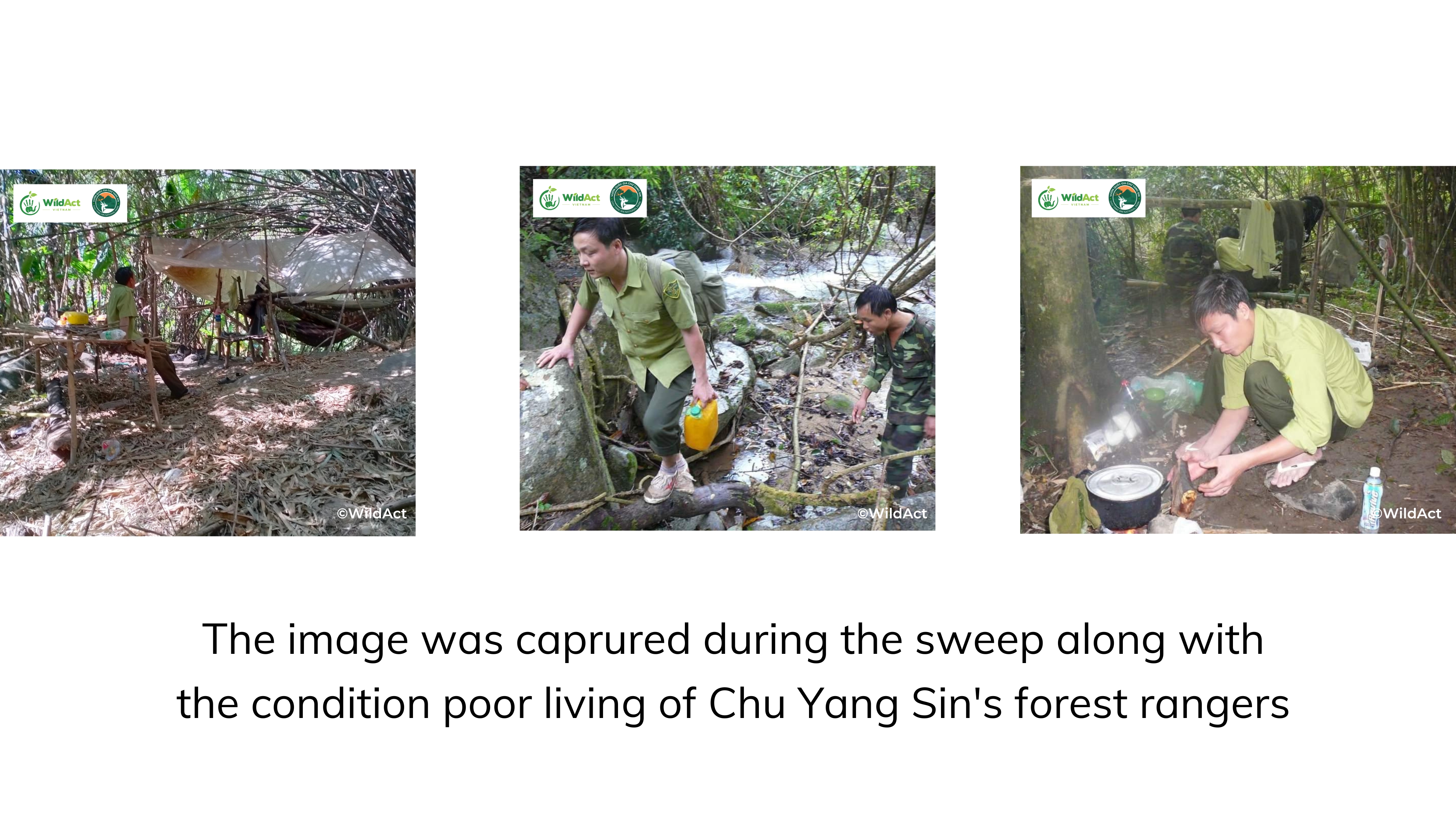 Up to now, it has been nearly 5 years since this accident, Mr. Ngo Duc Lien has not received any official compensation for the following reasons:
The case has not been closed because the perpetrator has not been arrested .

There is not enough evidence to prove that hunters are poaching wildlife in Chu Yang Sin NP.

There is not enough evidence to prove this is an emergency.
According to Mr. Loc Xuan Nghia, Director of Chu Yang Sin National Park: "Mr. Ngo Duc Lien and the rapid patrolling response team were brave and sacrificed themselves to protect the Chu Yang Sin forest. However, there is a lack of public support or policy for rangers, which do not meet with the tension, difficulties and dangers from the work of forest rangers. In addition, the case has not been closed yet because the perpetrator has not been caught, and there is a lack of evidence, Mr. Ngo Duc Lien and his family have to pay all the treatment costs themselves, putting his family under financial difficulties and pressures. Up to now, there are still 5 lead bullets remaining in his body, seriously affecting his physical and  mental health and work. We hope that the [pulic will join hands to support him to overcome difficulties, thereby encouraging rangers in Chu Yang Sin National Park to continue their important work and complete their duties with peace of mind."
Within the frame of the fundraising campaign for Mr. Ngo Duc Lien, WildAct calls for community support with the goal of 120.000.000 VND to: Support the cost of removing 5 remaining bullets from his body, Buy one-year life insuarance for him, Support a small amount of compensation that has not been received during his treatment in the past 5 years; Support 25% of monthly salary, compenstate 25% of the rate of injury over the 5 months that he was hospitalised…; Buy a bulletproof vest for Mr Lien to prevent similar incidents in future when encountering poachers.
Dr. Nguyen Thi Thu Trang, Director and Founder of WildAct said: "The World Wide Fund for Nature in a report in 2020 estimated over 12 million snares across protected areas in Vietnam, Laos and Cambodia. Our patrolling reports revealed a high density of snares (6.32 snares/km²) found in CYSNP.. This highlights the intense hunting and trapping  which lead to wildlife  extinction and dead forests. The work of rangers like Mr. Ngo Duc Lien, who are in the front line, is crucial in maintaining and conserving wild nature life. WildAct calls on the community to join hands to reduce pressure and enhance welfare for forest rangers in Chu Yang Sin National Park, thereby contributing to promoting the effectiveness of law enforcement toward wildlife conservation in the area."
You can support this campaign by: Direct transfer to WildAct's account number, donate via online platform Fundrazr or in-kind donation. All donations are used to directly support Mr. Ngo Duc Lien for the above purposes and disclose financial statements to donors.